The Hawai'i Academy
Honolulu special July events! 10 days intensive Instructor Course and 2 days exclusive workshop Hawai'i Awakens with Masters from Italy.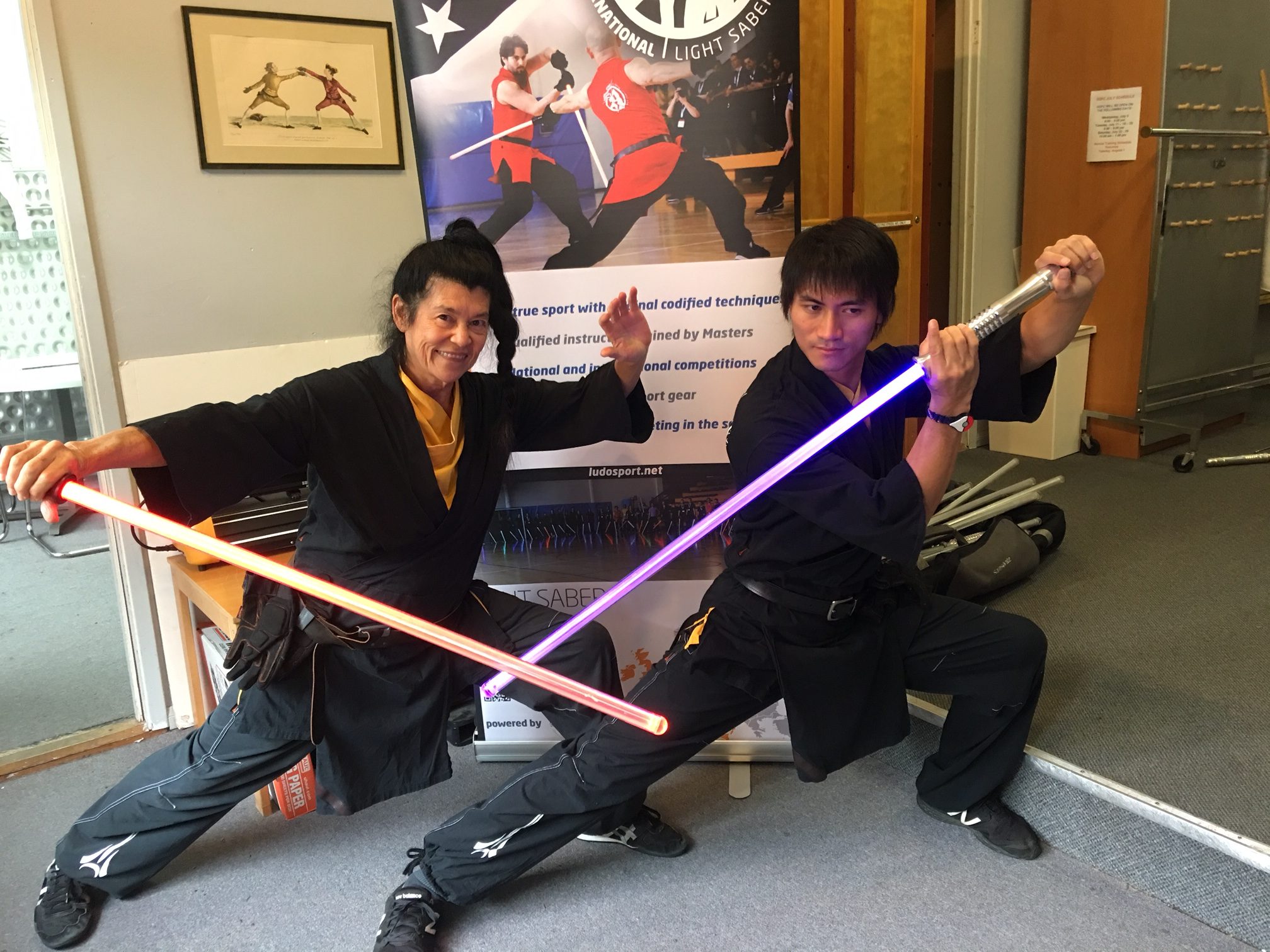 Class Schedule:
UNDER CONSTRUCTION
Time table and tuition options will be advised soon.
Mahalo!
#onenameonesky
If you want to submit your interest to attend classes, fill in the form linked HERE
Our Story:
In early 2016 the Founding Masters aimed to bring LudoSport from Europe to the U.S.  Following the successful San Francisco Awakens event in January '16, the first LudoSport Instructor's course was held in California in July to train future instructors to teach across the country. Shortly after, LudoSport Hawai'i founders also attended the SIS in Italy where they connected further with the international community and kept the promise made to the Masters, the opening of a LudoSport Academy in the beautiful Hawai'i island.
---
Meet the Instructors:
Buff – Form 1 +2 Instructor
…
In 2016 Buff was in the first American class of LudoSport and attended SIS in Italy and became a Form I Instructor, the first American woman as a Form I Instructor. In 2017 she attended the course for Form II in San Francisco and became the first American woman to achieve that status. She will go to Italy in the summer of 2018 to take the Form III course at SIS there. Buff was born in Hawaii, as was her family before her, and she grew up knowing and living the concept of "aloha" – defined popularly as "hello", "good-bye", and "I love you." But the deeper meaning of "aloha" is a way of life. "Aloha" is how to live in a pono (correct) way, showing love, respect, kindness, humility, patience, unity of all, etc. while being truthful and honest in all of your interactions. Basically, "aloha" is "joyfully sharing life". That is why the concept of SeCuRi resonated so strongly with her, because it is the same way of life! For 12 years Buff has been training in various martial arts, including Jeet Kune Do, Brazilian Jiu Jitsu, American Jiu Jitsu, Wing Chun, with and without the Muk Yan Jong (wooden dummy), Karate, Tai Kwon Do, Hopkido, Kung Fu (Shaolin, Hung Gar, White Crane, Cho Le Fut and other styles), Kali Eskrima Arnis, Boxing, Bagua, Tai Chi, and various weapons training. She has also practiced yoga (Hatha and Integral) and meditation since childhood, as her grandmother was a yoga instructor. These disciplines taught Buff focus and the ability to think of all people as part of a whole organism and not just as separate individuals – everyone is ohana (family). Buff has traveled to many places in the U.S.A. and in Europe to train and compete in martial arts and is a World Champion from the Portugal World All Styles Competitions in 2017. She has been fortunate enough to do martial arts, stunts, and acting in several films and on television. She has also been the only woman on a stunt team that performed an exhibition at AT&T Park in San Francisco before a Giants game. She will take part in a similar exhibition in the summer of 2018. Buff loves to instruct her students with care and good fun, helping each individual experience and reach their highest potential, in LudoSport and in life.
Nate – Form 1+2 Instructor, Form 2 Tecnico
Nathan has been training in the martial arts since he was 8 years old. He is well versed in a multitude of styles such as Jeet Kune Do, Karate, Jiu-Jitsu, Wing Chun, Bagua, Tai Chi, Muay Thai, Kali, Wrestling, Ninjitsu, Hapkido, Capoiera Wushu and the list goes on. He holds ranks as a Associate Instructor in Jeet Kune Do under Bruce Lee's student, the late Richard Bustillo. As well as a 2nd degree black belt in Hapkido by Korean Hapkido Federation by President Oh Se Lim and Grand Master Ji Han Jae in Korea. He has traveled around the world learning and competing in martial arts and became a world champion in Portugal at the World All Styles Competition. He has always loved performing arts and what martial arts has taught him spiritually, mentally and physically. His passion for movies and martial arts action films has brought him to becoming and actor and stuntman in TV, Movies and Commercials filmed in Hawaii. His dream is to become an action star in Hollywood movies and in Asia. Nathan came to San Francisco to meet LudoSport for the very first Instructors Course of form I in the USA. He was among those to pass in 2016 and later that same year take Form II at SIS in Italy during the summer as a specialist. The next year of 2017 he came to take the course for form II in San Francisco and passed as form II Tecnico. He is very passionate about the sport and wishes to teach others the fun of being a part of the Ohana and the values that come along with it such as Se.Cu.Ri. He is here to serve anyone with a strong passion to become a LudoSport athlete, upholding the standards of this international community and to help them become champions of themselves and in the arena.
For more info about classes, or other questions please email us at: hawaii@ludosport.net
© 2007-2016 All rights reserved. LudoSport™ and the sporting Light Saber Combat are not associated with The Walt Disney Company, Lucasfilm LTD, LFL LTD or other owners of I.P. connected with the Star Wars™ trademark.